Tag Archives:
Reporting tips
by
Former New York Post and Fortune business writer Roddy Boyd writes on The Big Money site about his struggles to produce aggressive business journalism about Overstock.com in the wake of its aggressive tactics to counteract his stories.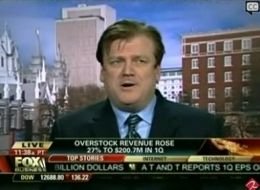 Boyd writes, "Too often, though, critics underestimate the difficulty and the cost of doing aggressive business journalism that companies don't like. There is an ugly truth to doing investigative reporting on a company's financial state of affairs: It is far from a precise science. A curious business reporter can frame the gap between a company's otherwise decent profits and weak cash-flow generation but can't responsibly go much further than laying out some accounting considerations. The vastly more worrisome issues that a company chooses not to disclose can be kept safely from the public's view for decades.
"Then there is the push-back. Corporations have everything to lose from bad press: credit-rating downgrades, regulatory investigations, lost business, and, above all, a possibility of stock-price declines. So as often as not, they fight a tooth-and-nail battle with investigative reporters and editors to tone down, delay, or even kill looming bad press. Outside public relations and law firms can turn an extraordinary amount of heat on increasingly over-matched editors and lawyers on the reporter's side of the fence.
"The most extreme form of this behavior comes from Overstock.com, a Salt Lake City-based Internet retailer that is in the news almost as frequently for the outrageous pronouncements of Patrick Byrne, its founder and chief executive, as it is for selling retailers' surplus inventories. Byrne is best-known for his quest to eradicate naked short-selling, a violation in which a trader fails to borrow stock adequately prior to selling it short. He believes that a far-reaching conspiracy of reporters, hedge-fund managers, and regulators are in league to abet naked shorting."
Read more here.