Tag Archives:
Reporting tips
by
TALKING BIZ NEWS EXCLUSIVE
Alexandra Berzon began working for the Las Vegas Sun as a business reporter in 2007. She has also worked as a reporter for technology magazine Red Herring, the Anchorage Daily News and the San Antonio Express-News.
Berzon was the primary reporter for the Las Vegas Sun's construction deaths on the Strip series, which was awarded the 2009 Pulitzer Prize for Public Service.
Berzon, 29, received an undergraduate degree in urban studies from Vassar College in 2001. She graduated from the University of California at Berkeley Graduate School of Journalism in 2006.
As a student at Berkeley, Berzon reported for Salon.com, NPR's Living on Earth, and American Public Media's American Radio Works. Her radio work dealt with a community of South Pacific islanders who had emigrated to Auckland, New Zealand, because of fears of sea level rise from global warming. The broadcasts were part of a multi-part series that won the George Polk Award for Radio Reporting in 2007.
Berzon's stories on construction safety at the Sun were awarded the 2008 Story of the Year, News Feature of the Year and First Amendment awards by the Nevada Press Association.
She grew up in Berkeley, Calif., where her parents are lawyers and her mother is a justice on the U.S. Ninth Circuit.
Talking Biz News caught up with Berzon on Thursday, three days after she received the Pulitzer, as she was on her way to Washington, D.C. to receive another award for her work in covering the construction deaths from the Scripps-Howard Foundation.
What follows is an edited transcript.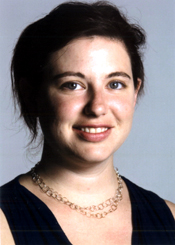 Q. How did you first get interested in journalism?
I started in college. I went to Vassar. My freshman year, my first day being there, I went with somebody there to a meeting at the college newspaper, and I felt like it was the perfect place to be. I got really involved really fast. We had a weekly paper. My second year I was news editor, and that was my first feeling about writing and having an impact and people will respond. I wrote a series of articles about faculty diversity. It was about looking at different angles why Vassar had low numbers of faculties of color. There were protests and policies were changed. I'm sure I would be embarrassed by the stories now, but I was very encouraged. I didn't know how to become a journalist, though, because it was a liberal arts college.
After college, I did non-profit work in Los Angeles for a while, but I decided that this is what I wanted to do. So I went to Berkeley for graduate school. I did do an internship in college at the San Francisco Bay Guardian, an alternative weekly.
Q. What was so attractive about business journalism to you?
Business journalism was just something I fell into. I've done so many different kinds of reporting. When I was in graduate school, I did a lot of environmental reporting. I did take one business reporting class, taught by a great professor named Marcia Parker. She turned me onto Red Herring, a business technology publication. That seemed very interesting to me at the time. I thought that would be something I could do there.
I did pretty quickly realize that I would rather do business reporting not for a business audience but a more mainstream audience.
Q. How did what your parents do influence your career choice?
I definitely grew up in a household where lots of different ideas were discussed and different topics. Public service was also very strong in my family.
Q. What was so attractive about going to work for the Sun?
The Sun was great. I had decided that after freelancing for a while, there was a lot of opportunity to stay in business publications, and that was definitely something I was considering. But I was trying to get into a broader audience and give me more time to spend on stories. The Sun is a section inside the Review-Journal. It's a very unusual set-up. So that means we don't do the quick-hit daily stories. I wanted to do investigative reporting, and I could do that at the Sun. That's hard to come by to have someone pay you to do that type of coverage.
In business reporting, that is so important. But in a lot of business reporting, it's more of here's what happened, the quick nugget. I wanted to do deeper analysis that would take more than a few hours or a day. It took a lot to get me to move in Las Vegas, but that was worth it. There are so many great stories to tell in Las Vegas. And there are great editors, people who care about doing great journalism.
Q. Tell me how the topic of covering the construction deaths on the Strip came up.
Actually some folks in the newsroom had been talking about it before I started at the Sun. There would be a story here and there about a worker dying on the Strip. And they wanted to know what was going on. So when I came in for an interview, they said to me that this would be something that they would like for me to work on. And that is what attracted me. It seemed fascinating and important to tell that story.
Q. How did you start digging into the story?
I began by talking to lots of health and safety people around the country, familiarizing myself with the issues and OSHA. There's a federal and the state OSHA. And then getting OSHA documents and finding the family members and talking to unions and contractors. That ended up being harder and more difficult that I anticipated. There were a lot of forces here who weren't interested in having that story being told.
Q. How did you overcome hurdles?
Perseverance. The state OSHA documents had a lot in them. When I requested them initially, there was a missing link that they were overturning citations and withdrawing them after issuing them. No one had looked at those yet. The story of OSHA's response was a whole another piece because they were withdrawing the citations. There was a another document that they weren't giving me about that.
I thought the unions would help me find the family members, but they didn't. And I found a lot of workers, going to bars and places where construction workers would hang out about the working conditions on the site.
The family members ended up being key. They were able to tell the human stories behind the deaths. I had the documents and OSHA, and I needed to talk to experts to decipher the documents. But the family members opened up and told a much richer story. A lot of them have been in Las Vegas construction for generations. There was one person whose brother in law had died, and he had been a contractor himself and had gone through the same process with OSHA and had the citations withdrawn. But he also had the perspective of being a family member.
Q. In terms of public records, where did you go to find stuff?
I went to the federal government OSHA to get them to set up some database programs for me to find various data points for me. We did end up paying for that. We had to pay a small amount. They're not that easy to deal with.
There were a lot of state OSHA records request, asking them for numbers. I wanted to know how many willful citations state OSHA had issued, which is the most sever type of violation. They have to report that to the feds. Somehow they couldn't come up with that. I had a fairly hilarious e-mail exchange, and I could only communicate them through e-mail, that they couldn't do this. So it goes to the fed OSHA office in San Francisco. Finally, it goes back to the state, and they say, "That would be $25,000." It was kind of crazy. Finally, fed OSHA got them to come up with the numbers.
Q. Who was the hardest to get to talk?
There's so many. The general contractor was always difficult to deal with. And Nevada OSHA. They just were not very good at talking and explaining their perspective, which I think would have been a good thing for them to do.
Q. When did the first story run, and when did you start getting feedback?
It was a pretty quick response, especially among the workers, and the contactors and the union. The really amazing moment was in the beginning of June when the union decided to stage a big walkout of about 10,000 workers over safety. A worker had died the day before. That was the last person who died. They wanted to show that they were concerned about this. It was a complete 180 for them. Their public comments in the past were always how the contractors were great and weren't doing anything wrong. This was a pervasive comment in Las Vegas. And now you had workers standing outside holding signs. It was fairly dramatic. That was definitely the turning point.
Q. Are you still on the story?
I'm doing environment and energy reporting right now, which is something that I've always been interested in, but I am still following up with construction worker safety. There's still a lot going on, and I am going to follow up.
Q. Have you come down yet from the emotional high?
I'm still totally overwhelmed and totally shocked. It was not something that I expected. It will take a bit more to settle in. It's a great feeling.