Tag Archives:
Maria Bartiromo
by
TALKING BIZ NEWS EXCLUSIVE
CNBC anchor Maria Bartiromo has been making the rounds in recent weeks to promote her new book, "The 10 Laws of Enduring Success."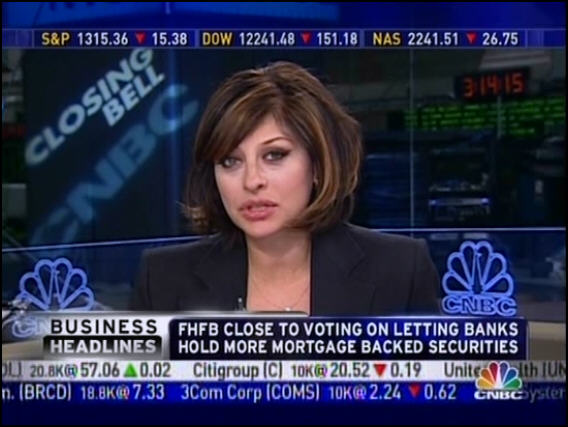 In the book, Bartiromo thanks a lot of people who have helped her become a success. She done the same in interviews recently about the book. Those mentioned in the book include former GE CEO Jack Welch and current GE CEO Jeffrey Immelt. Also included are NBC president Jeff Zucker and Mark Hofman, the head of CNBC.
Those thanked at CNBC include Jeremy Pink, senior vice president of business news; Tom Clendenin, vice president of marketing; Brian Steel, vice president of public relations; and CNBC producer Susan Krakower. Also thanked are other CNBC producers: Han–Ting Wang, Alex Crippen, Joel Franklin. Katie Kramer and Lulu Chiang.
Bartiromo even thanks Ciro Scotti, the BusinessWeek editor who oversaw her column that once ran in the magazine.
But one name is notably missing from her acknowledgements in the book and during her interviews – Roger Ailes. The current head of Fox News, who oversees rival Fox Business Network, is noticeably absent. Yet it was Ailes, when he was running CNBC, who hired Bartiromo and put her on the air. It was also Ailes who sent Bartiromo to the floor of the New York Stock Exchange, making her a star. (Ailes is only mentioned once in the book, on page 33, according to the index.)
His virtual absence from the book has people in the industry talking about the glaring omission. In her acknowledgements, Bartiromo writes, "One of the biggest lessons I've learned about success is that you can't achieve it alone. I have never met a truly successful individual who does not rely on the enduring support of colleagues, friends, family, and others who have helped pave the way."
What's even more interesting is that Bartiromo has acknowledged Ailes' role in her success in the past. In 2005, she did an interview with New York Daily News where she called Ailes "a terrific programmer" and said she would take his call "any day of the week." At the time, it was speculated that Bartiromo might be using her relationship with Ailes to leverage a new deal with CNBC.
Steel, in an e-mail to Talking Biz News, said, "Maria has never been shy about thanking Roger for the opportunities he gave her early on in her career but she was more focused on the people who have helped her more recently and on the book in particular."