Monthly Archives:
January 2009
by
Michael de la Merced of the New York Times reports that The Financial Times is suing Blackstone Group, a company it covers, for allowing its employees to access its Web content using one ID.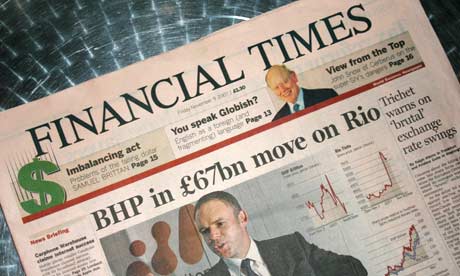 De la Merced writes, "The newspaper company contends that Blackstone allowed multiple employees to access thousands of Financial Times articles online using a single user ID, instead of paying for individual logins for each user.
"Beginning in 2002, The Financial Times Limited says in its lawsuit, an individual in 'a senior position in finance and compliance' at Blackstone registered an account and paid by corporate credit cards.
"Between February 2006 and June 2008, that account viewed 'thousands' of articles on FT.com. The Financial Times Limited said that its records showed the account being accessed from multiple computers, both in the United States and abroad.
"The complaint charges Blackstone and 100 unnamed employees with copyright infringement and violation of computer fraud and abuse laws."
Read more here.