Monthly Archives:
October 2006
by
CBS dominated the nominations for the fourth annual Emmy Awards for Business & Financial Reporting, with 15 nominations. Nine of the 15 nominations were for segments done by the "60 Minutes" staff.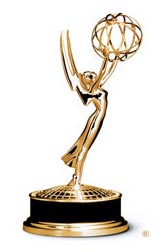 NBC was a distant second with five nominations, while CNBC garnered four nominations, according to a news release from the National Television Academy. CNN and PBS each received three nominations.
The Emmy Awards for Business & Financial Reporting recognize outstanding achievement in business & financial reporting telecast from July 1, 2005 thru June 30, 2006. A total of 33 nominations in seven categories were announced Tuesday.
At the ceremony, the National Television Academy will present its Lifetime Achievement Award in Business & Financial Reporting to Paul Steiger, managing editor of The Wall Street Journal, overseeing U.S. and international print and online editions, and vice president of Dow Jones & Co. CNN's Lou Dobbs received the lifetime award in 2005.
"The importance of economic journalism became paramount to consumers over the past year,� said Peter Price, President/CEO, National Television Academy, "as we strove to understand skyrocketing gas prices, the real estate downturn, the ups and downs of the stock market, and a myriad of financial issues. This year's entries demonstrated the real value of business and financial reporting to the consumer, and the nominees represent the best of an excellent body of work.�
A complete list of the nominees and the categories can be found here. The awards will be presented on Thursday, Dec. 7 at the Rainbow Room in New York City. The event will be sponsored by Condé Nast Portfolio, a new business magazine launching in spring 2007.