The best personal finance TV show
by
Troy Patterson, Slate's television critic, writes Friday about all of the personal finance shows on TV, and declares that "The Dave Ramsey Show" on Fox Business Network is the best.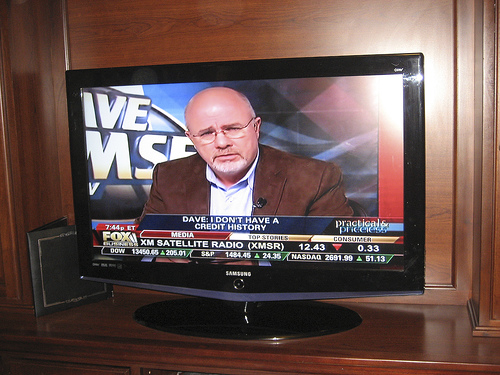 Patterson writes, "Where Orman's viewers call in seeking permission to buy Kate Spade pumps, Ramsey's are often seeking a firm hand to guide them out of debt, which they possibly accrued in co-signing for an ex-boyfriend's car loan. Where some shows analyze, or at least natter about, the economic-stimulus plan, Ramsey does not give a fig about it, telling one viewer, 'I think it's funny and it's sad that you wait on government to fix anything in your life.'
"He sells principles, as opposed to addressing problems ad hoc, and in doing so, he often acts as an on-screen grief counselor, a platitude-free positive-thinking coach, and an extremely likable dispenser of tough love. Ramsey's core idea — which used to look iconoclastic but now just seems like the common sense that it is — is to avoid debt at all costs.
"He preaches it in a humble, down-home, no-frills way that leaves his audience owing him plenty."
Read more here.